Participating exhibition : Japan Festival Berlin 2017
Participating exhibition : Japan Festival Berlin 2017

(Collaboration Artwork)
Artwork by WAKOSHI*DeadlyKawaii
http:// www.dea dlykawa ii.com UK
http:// wakoshi .jp/ JAPAN

【Japan Festival Berlin 2016】

2017 01/21 Jan(Sat)10:00 〜20:00
2017 01/22 Jan(Sun)10:00 〜18:00

URANIA Berlin e.V. http:// www.ura nia.de
An der Urania 17 10787 Berlin, Germany  (アン・デア・ウラニア・17)
http:// www.jap anfesti val.de/

Urania
An der Urania 17 http:// www.ura nia.de/
10787 Berlin-Schöneberg

Exclusives Japan (3. OG)

---Japan Festival Berlin とは
ジャパン・フェスティバル・ベルリンは、ドイツの日本押し見本市と物産展で、サブカルチャー、アニメやコスプレ人気の影響で、回を重ねるにつれ入場数が急増中です。ドイツでの報道特集や紹介記事も多くなり、上昇気流を受けている新進フェスティバルです。


1 期間
2017年01月21日(土) 10:00−20:00
2017年01月22日(日) 10:00−18:00
2 場所
URANIA Berlin e.V. http:// www.ura nia.de
An der Urania 17 10787 Berlin, Germany  (アン・デア・ウラニア・17)
・Koi 鯉 Common carp
:円相 In Zen Buddhism, an ensō (円相 , "circle") is a
circle that is hand-drawn in one or two uninhibited
brushstrokes to express a moment when the mind is
free to let the body create.
:Message 夢に向かってのぼり行け Go up to your dreams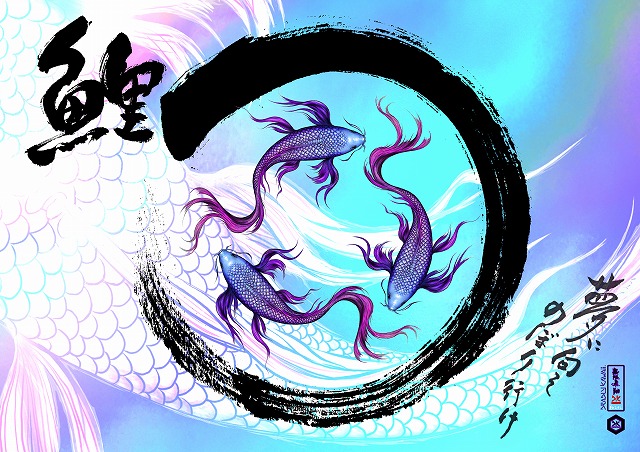 ・Fūjin (風神)
Fuji is the Japanese god of the wind and one of the eldest
Shinto gods.
He is portrayed as a terrifying wizard-like demon,
resembling a red headed green-skinned humanoid wearing
a leopard skin, carrying a large bag of winds
on his shoulders.
In Japanese art, the deity is often depicted together
with Raijin, the god of lightning, thunder and storms.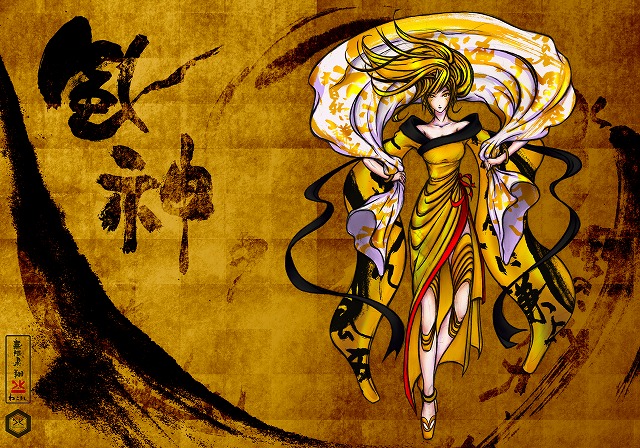 Raijin (雷神)
Raijin is a god of lightning, thunder and storms
in the Shinto religion and in Japanese mythology.
His name is derived from the Japanese words rai
(雷, "thunder") and "god" or "kami" (神 ).
He is typically depicted as a demon-looking spirit beating
drums to create thunder,
usually with the symbol tomoe drawn on the drums.
:Message:太鼓叩いて稲妻 
Tap the drum to make a lightning bolt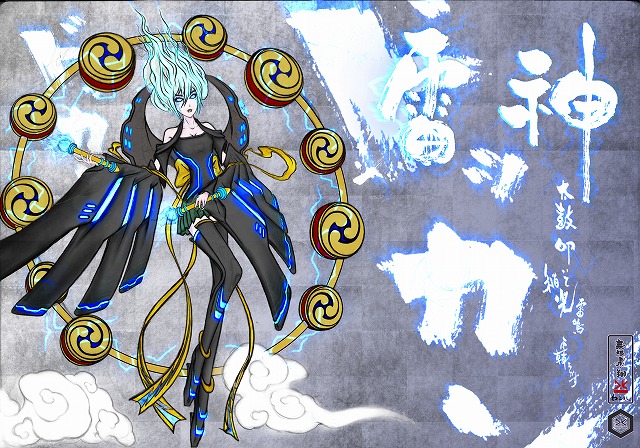 Kitsunebi
Kitsunebi (狐火) is an atmospheric ghost light
told about in legends all across Japan
:五行思想The Wu Xing (Chinese: 五行; pinyin: Wǔ Xíng),
also known as the Five Elements, Five Phases,  
the Five Agents, the Five Movements, Five Processes,
the Five Steps/Stages
:梵字 The word Siddhaṃ in the Siddhaṃ script  
Siddhamātṛkā, is the name of a script used for writing
Sanskrit from c. 600-1200.
:神代文字  Jindai moji or Kamiyo moji
(Japanese: 神代文字 "characters of the Age of the Gods") are
characters said to have been used in ancient Japan.